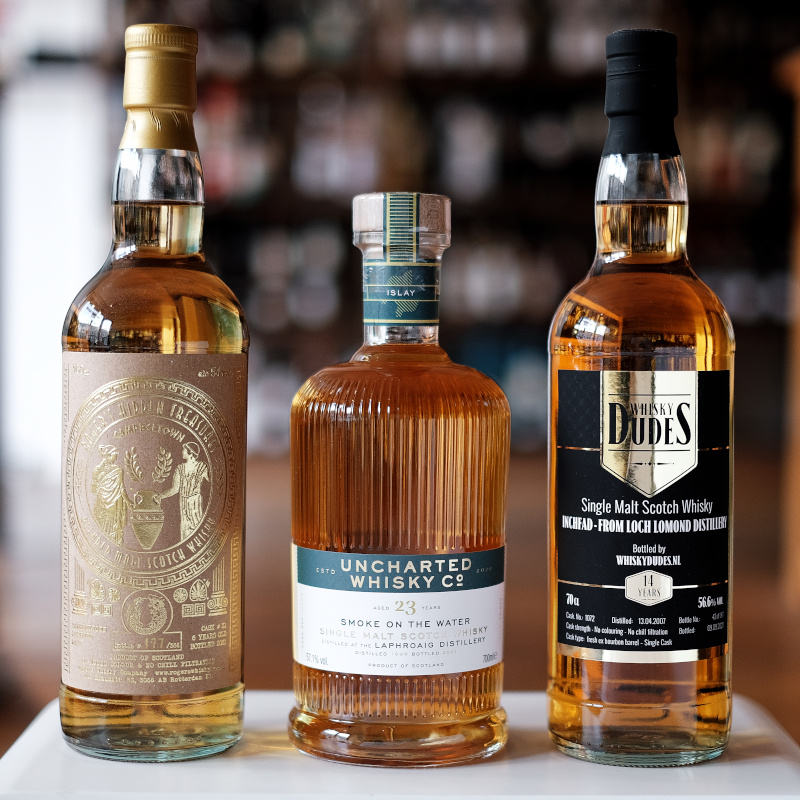 Overlooked Independent Bottlers.
Here at Whiskybase, we are constantly adding new bottles to our shop. This can make it easy to overlook especially some of the smaller Independent Bottlers. However, bottlers like these often have some very promising whiskies available.

Here's a summary of some of the interesting IB's we currently have in stock!







Inchfad 2007 WDS
The Inchfad distillate, from the Loch Lomond distillery, is peated at 25ppm. This means that it's intensely peated, but there are a lot of other flavors going on. Think vanilla, a little sweetness, and squeezed oranges. Rated at 86.38 points by 11 votes!
Aged in an ex-Bourbon barrel
Inchfad 2007 Tasting notes (by the brand):
"Like a midnight bonfire during wintery conditions, expect lots of peat smoke, tar and gasoline fumes. However, it's not only the 'dirty' notes that come through: freshly squeezed orange juice and hints of lemongrass make this a very interesting whisky to explore.
Wait a little longer and freshly mowed grass will reveal itself as well. Peat, peat, peat and a light saltiness can be picked up straight after sipping this bad boy for the first time. Thereafter take your time to explore the depth and complexity behind all this peated violence.
Liquorice root, cooked vegetables, raisins, apple sauce, porridge and even a little vanilla. This is one for the real peat heds out there."
Blended Malt 2015 RWCo
Nowadays, the world "Campbeltown" gets the hearts of whisky enthusiasts flowing like never before. Without devaluing this whisky in any way, we can certainly say that this is simply not Springbank. 
With that being said, this Blended Malt 2015 (Teaspooned Campbeltown), is still a whisky that's very worthy of your attention. 
Blended Malt 2015 (View in shop)
06-years-old
Teaspooned Campbeltown
54.00% - 364 bottles
Blended Malt 2015 Tasting notes (by the brand):
Nose: Initially fresh, a bit grassy, orange zest with maple syrup waffles. This one really appreciates some time in the glass and changes, bringing very interesting new flavors. Fantastic chocolate-y sweetness, Nutella!, milk chocolate, and hazelnut. After 30 minutes in the glass: literally an explosion of Nutella, almost unbelievable!
Taste: Super smooth and rounded, superbly integrated. Just a touch peppery, as how I like my whisky. Orange peel, tangerine juice come into the mix. And that chocolaty vibe again.⠀⠀
Finish: Dark chocolate, cocoa nibs, tangerine juice, and very long for a young whisky like this.
Laphroaig 1998 UWC
Nope, not a Williamson this time! This whisky actually has the Laphroaig distillery stated on the label, which is pretty rare. A beautiful 23-Year-old Laphroaig, bottled at cask strength. Rated at 89.89 points by 11 votes!
Laphroaig 1998 Tasting notes (by the brand):
Nose: Sweet, sumptous and sultry smoke meanders out of the glass. A deep peat aroma, brine and hint of seaweed. Spices emerge from behind the first nosing showing sweet bread, cloves and candied ginger.
Taste: Deep and rich peat, rich and heady coal fire plumes explode coating the mouth. This then settles to a rounded and creamy texture showcasing the sweet spice.
Finish: The creaminess fades leaving the smoke lingering which develop in lapping wave of brine, hints of the medicinal and satisfying warmth.