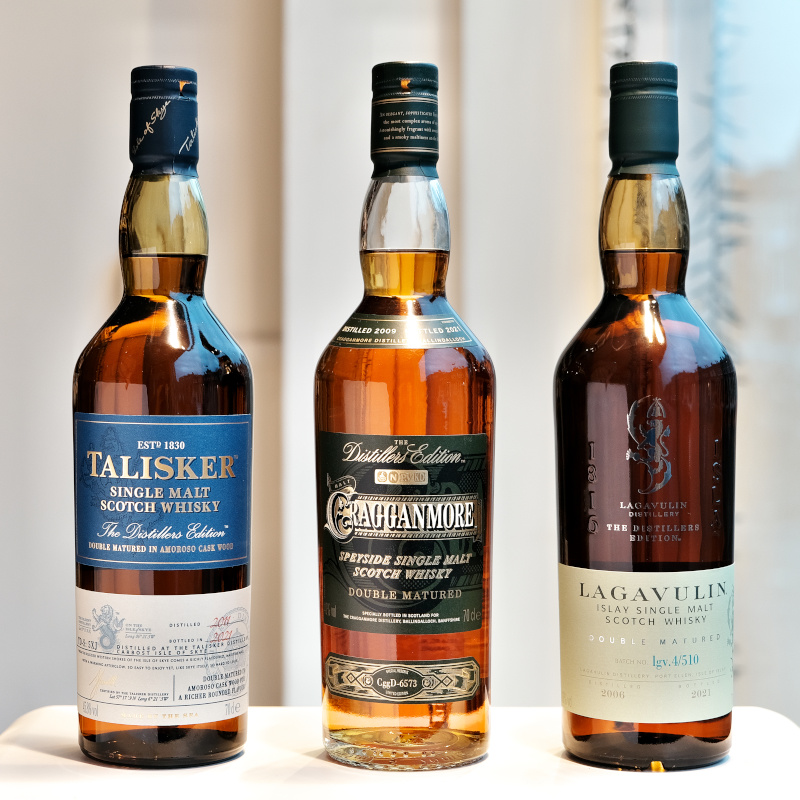 Diageo Distillers Editions 2021
Diageo's annual Distillers Edition Release is something a lot of Whisky enthusiasts look out to.

The Classic Malts of Scotland are all finished in different casks than its core range variant. Let's take a look at the Distillers Editions of 2021!








Talisker 2011
One of the more popular bottles in the Distillers Edition release. This Talisker finished in ex-Amoroso casks before bottling at 45.8%.
Finished in ex-Amoroso cask
Talisker Distillers Edition Tasting notes (by the brand):
Nose: Remarkable; the stuff of legends. Very well-focused. Wonderful grapey sultana sweetness. Clean, tempting.
Taste: Magnificent; crisp peat softens to enormous richness, then wafts around sweet, roasted malt, leaving a heathland dryness. Wood controls the pepper; luscious, slightly oily sweetness; ripe, juicy fruit.
Finish: Deep cocoa, vanilla and lingering, earthy peat. Very engaging; great sweet-dry balance, led by sweetness.
Oban 2007
We don't come across so many malts aged or finished on Fino sherry casks. But this Oban finished on Montilla Fino Sherry, to be precise. Approximately 14-years-old.
Oban 2007 (2021) (View in shop)
Approx. 14-years-old
Finished in Montilla Fino Sherry casks
43.00%
Oban Distillers Edition Tasting notes (by the brand):
Nose: Outstanding. Fruity and pungent; salty sea breezes, grapes, orange, hints of smoke - massively complex.
Taste: Most explosive Oban ever. Soft malt, wave upon wave of delicate yet rich fruit carried on a salty tide.
Finish: Sweetened Jamaican coffee and oak, with an attractive malt-biscuit effect as it dies down.
Dalwhinnie 2006
The oldest whisky of the series. This Dalwhinnie aged for approximately 15 years. A part of this batch aged in ex-Oloroso casks.
Finished in ex-Oloroso cask
Dalwhinnie Distillers Edition Tasting notes (by the brand):
Nose: Fresh notes of Oloroso embrace malty, honeyed Dalwhinnie. Peaty and still heathery. Spicy yet grapey.
Taste: A big, spicy buzz, with very clear, well-defined malt. A quick burst of sweetness, then rich and grapey.
Finish: Tons of oak. Very, very dry, with vanilla dominating.
Cragganmore 2009
Often overlooked, but always interesting. This Cragganmore is very reasonably priced and finished in Port casks.
Cragganmore 2009 (2021) (View in shop)
Approx. 12-years-old
Finished in Port casks
40.00%
Cragganmore Distillers Edition Tasting notes (by the brand):
Nose: Sweet and malty. Fruitier, juicier than the regular bottling. A hint of smoke.
Taste: Firm and sweet, with smoky undertones and fruitiness. Malt, oak and smoke. Intriguingly layered.
Finish: Medium to long and dry, with fine expressions of oakiness from bananas and vanilla to cocoa.
Caol Ila 2009 (Temporary out of stock)
Also one of the best-selling Distillers Editions from this year. Flavors accompany the peaty character of the Caol Ila distillery from ex-Moscatel casks. 
Finished in ex-Moscatel casks
Caol Ila Distillers Edition Tasting notes (by the brand):
Nose: Concentrated pure, peaty and fresh-clean, with rich fruit; spicy and fragrant.
Taste: Sweetness and maltiness are overwhelmed by peat smoke and intense, clean, crisp flavors. Caol Ila's signature smoky bonfires build. Overall, drying, in a balanced, complex, elegant development with cinnamon.
Finish: Long, rounded, robust, and multi-layered.
Lagavulin 2006
Lagavulin finished in Pedro Ximénez sherry casks. What could possibly be wrong about that. Consistently high in the Whiskybase ratings, and bottled at 43%.
Lagavulin 2006 (2021) (View in shop)
Approx. 15-years-old
Finished in PX Sherry casks
43.00%
Lagavulin Distillers Edition Tasting notes (by the brand):
Nose: Satisfying and enticing; intense peat, vanilla. A raisiny sweetness checks the smoke. Crisp, roasty malt.
Taste: Sweet and luscious; clear malt, smoke fills the mouth. Very salty tang; coffee, vanilla, a glimmer of fruit.
Finish: Incredibly long, even for Islay. Fruit, peat, and long-lasting oak. Very engaging and enjoyable.
Glenkinchie 2009
The only Lowland whisky in the Distillers Edition. Distilled in 2009, and after its initial aging, it's finished in Amontillado Sherry casks.
Finished in ex-Amontillado casks
Glenkinchie Distillers Edition Tasting notes (by the brand):
Nose: Brisk and brittle. Complex and excellent; astonishing balance between sweet and dry. Firmer, drier notes from soft and crisp grape; sweeter, nuttier ones from malted barley and cask wood.
Taste: Dry, after early biscuit sweetness. Enormous malt character contrasts with thin fruitiness of the grape.
Finish: Very long, dry, oaky. Very faint peppery notes add spice.