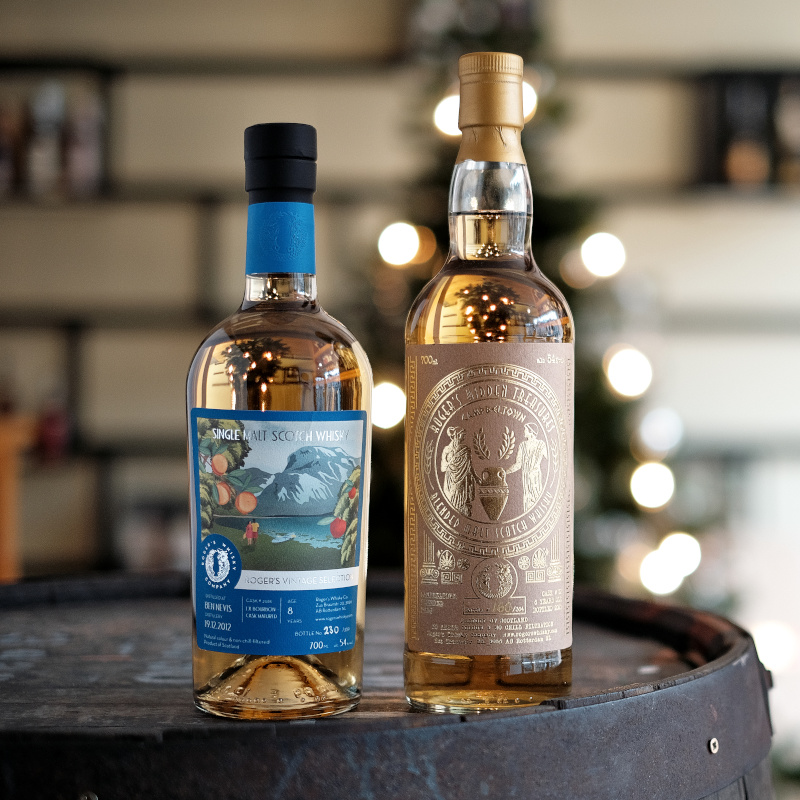 Roger's Whisky Company (RWCo).
The newest whiskies of Roger Tan, owner of Rogers Whisky Company are available in our shop. A Teaspooned Blended Malt 2015 from Campbeltown, and a Ben Nevis 2012.

After his first releases, Roger gained a lot of attention and respect in the Dutch whisky community. The journey of RWCo only dates back to the beginning of 2021. Bottling 5 whiskies in a year, for a new bottler, is pretty impressive!







Ben Nevis 2012 RWCo
After releasing a heavily peated Ben Nevis 2015 earlier this year, Roger chose to release a fruity, layered, floral Ben Nevis with a summery vibe this time.
Aged in an ex-Bourbon cask
Ben Nevis 2012 Tasting notes (by the brand):
Nose: Sweet butterscotch and honey grates. Fragrant and full, perfume-like. After even a short time in the glass, this then changes into fresh orange juice and orange zest, tropical fruits, lychee, supported again by the butterscotch.
Taste: Well rounded, milk chocolate sweetness, white grapes, and summer fruit.
Finish: Just a touch sparkly, fresh orange juice and lingering like a nice summer evening.
Blended Malt 2015 RWCo
Nowadays, the world "Campbeltown" gets the hearts of whisky enthusiasts flowing like never before. Without devaluing this whisky in any way, we can certainly say that this is simply not Springbank. 
With that being said, this Blended Malt 2015 (Teaspooned Campbeltown), is still a whisky that's very worthy of your attention. 
Blended Malt 2015 (View in shop)
06-years-old
Teaspooned Campbeltown
54.00% - 364 bottles
Blended Malt 2015 Tasting notes (by the brand):
Nose: Initially fresh, a bit grassy, orange zest with maple syrup waffles. This one really appreciates some time in the glass and changes, bringing very interesting new flavors. Fantastic chocolate-y sweetness, Nutella!, milk chocolate, and hazelnut. After 30 minutes in the glass: literally an explosion of Nutella, almost unbelievable!
Taste: Super smooth and rounded, superbly integrated. Just a touch peppery, as how I like my whisky. Orange peel, tangerine juice come into the mix. And that chocolaty vibe again.⠀⠀
Finish: Dark chocolate, cocoa nibs, tangerine juice, and very long for a young whisky like this.