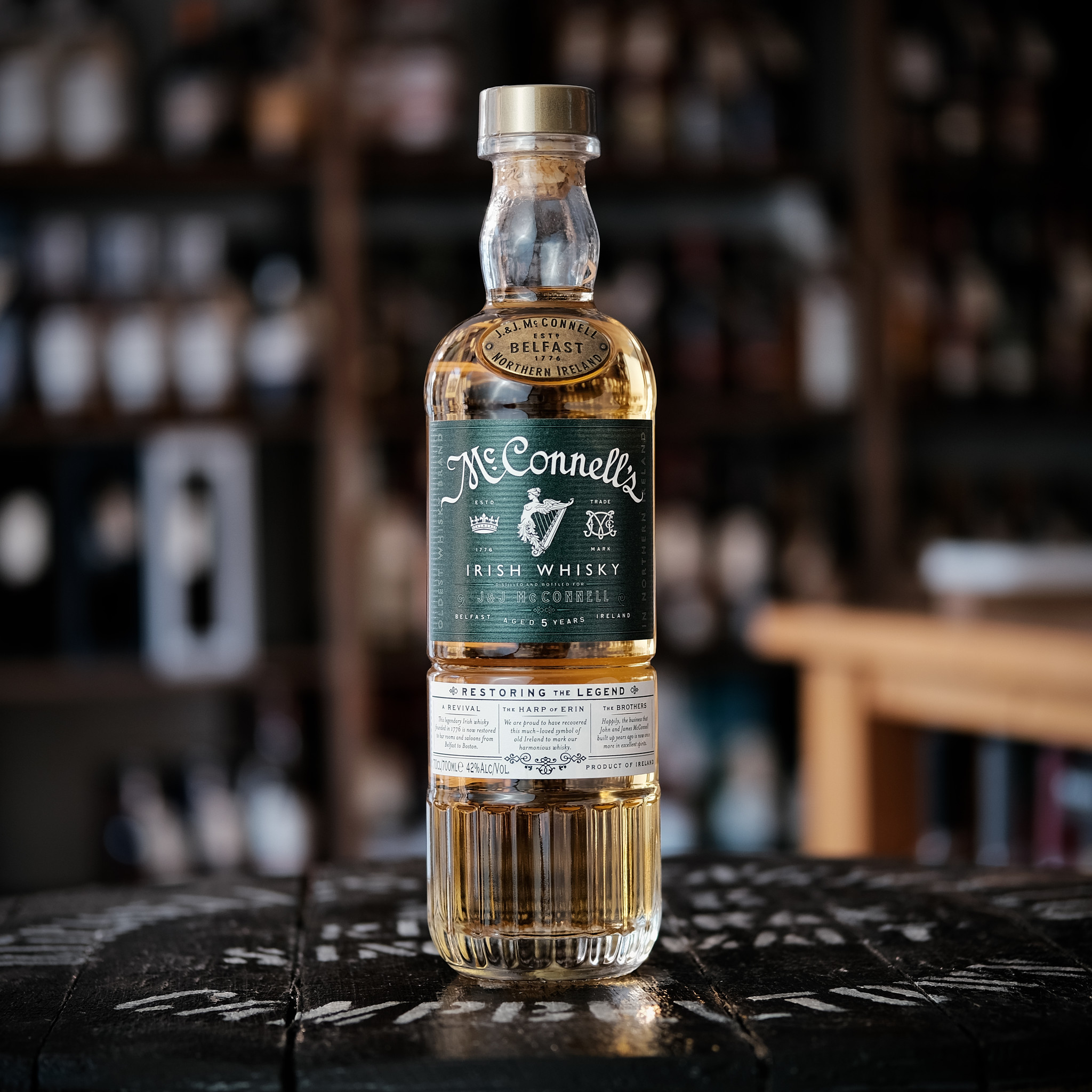 Irish Blog series: part 04
In the week in advance to St. Patrick's day, we will highlight some of the specialties in Irish Whisk(e)y. Irish Malts (and grains!) have been on the rise for a couple of years now, and we have seen some stunning whiskeys, both IB and OB appearing and disappearing on the shelves in our shop. So let's raise a glass to the Irish - and celebrate Irish Whiskey this week!
We will address the often discussed and for some controversial Irish Whiskey with an 'e'. Let's talk about why!
Whisky or Whiskey (2022)
Probably the #1 topic starter on Social Media in regards to our beloved spirit - the spelling of the word whisk(e)y. If you're like us, and spend some time on Facebook, Instagram, or Twitter in Whisky-communities, you've probably seen one or two heated discussions about the use of the letter 'e' in whisky. There's a lot of incorrect or incomplete information available, so let's try to settle this debate once and for all.
Let's take a look!
According to the Irish Whiskey Technical File, as presented by the European Commission in 2014, Irish whiskey can be labeled as 'Irish Whiskey,' 'Uisce Beatha Eireannach,' and 'Irish Whisky.' As stated on page 3 of these official regulations: "The varieties may use either the spelling 'Whiskey' or 'Whisky.'" There we have it! 
Source: Drinksireland.ie
So, where does this confusion come from? To get that, we actually have to go back in history to the late 1800s. Around this time, the majority of whiskies produced were made in Ireland. In 1860 however, Gladstone's Spirits Act allowed whisky producers to blend quality malts with the, back then inferior, grain whiskies. This had a huge impact on the quality of whiskies at the time. This impact wasn't something that the Irish were happy with - mostly because this allowed Scottish whisky producers to deliver whisky for a fraction of the price that Irish whisky costed back then. Now we can argue if they Scottish were cheap, or business smart. We think it is better to not start that discussion ;-)
After years of seeing the Scottish whisky category growing, the Irish were getting sick of it and decided to create their own quality-stamp, by naming their products 'whiskey' with an 'e.' This move differentiated their product from the (in their eyes) inferior Scottish whisky, and made sure the Irish could carry a name on their product they could be proud of again.
This trend caused many bigger Irish producers to join, and so the product name 'whiskey' became more and more commonly used. However, some smaller distilleries didn't follow - that's why you can still see a couple of older brands of Irish whisky spelled without an 'e'.
So why the inconsistency?
Well - as we stated earlier, both spellings of the word whisk(e)y, in Ireland, are correct. Brands have their own opinions, statements, and even history on this subject. At Whiskybase, we chose to refer to Irish Whiskey. We follow a tradition and don't want to overcomplicate things on this matter. It might already be confusing enough. We tribute this blog to St. Patrick's Day - and on St. Patrick's Day, we celebrate the Irish culture and traditions. And what a tradition and history this story has! However, as we've stated in this article, every brand can simply choose what spelling they identify and feel most comfortable with! 
An example of an Irish brand that's very proud of its heritage and stands its ground with its whisky spelling, is McConnell's whisky. A brand that dates back to 1776 and proudly uses a mash of grains and malts for their distillate. After 90 years of being closed, the McConnell's brand had its revival in 2020 and is following the tradition of the original founders. That's why they write their whisky without the 'e.'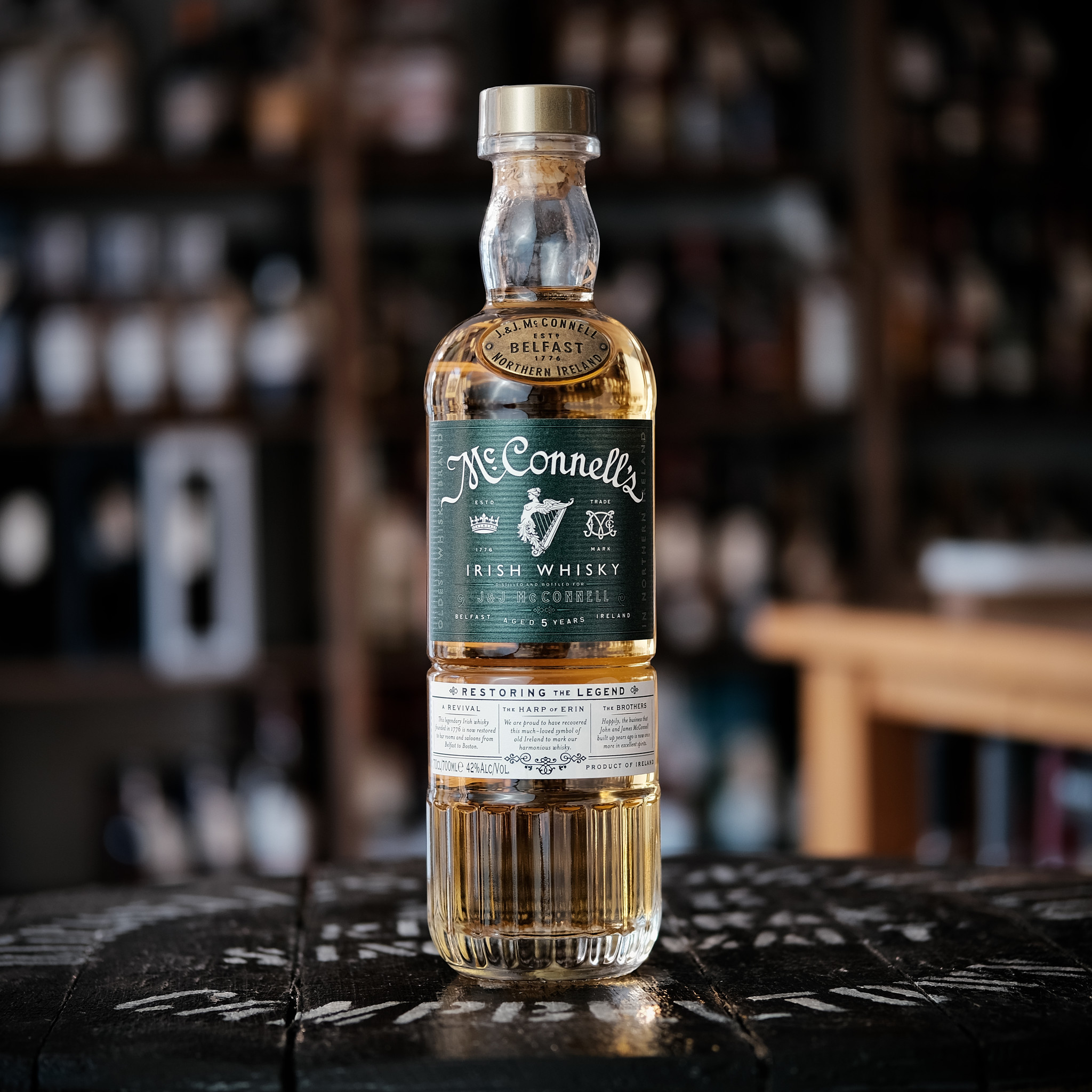 A beautiful example of a 5-Year-old Irish (Blended) Whisky that is here to surprise you. A beautiful whisky with a rich history of once being the most famous whisky in their prime-days. 
Currently, this bottle is priced at €32,50… A steal if you ask us!
Tasting notes (as written by the brand):
Nose: Light citrus notes, peppered spice, and vanilla undertones.
Taste: Earthy fruits, butterscotch & vanilla sweetness from the bourbon casks, white pepper followed by an oak woodiness.
Finish: Sweet, spice, oak, with lingering ripe fruits.