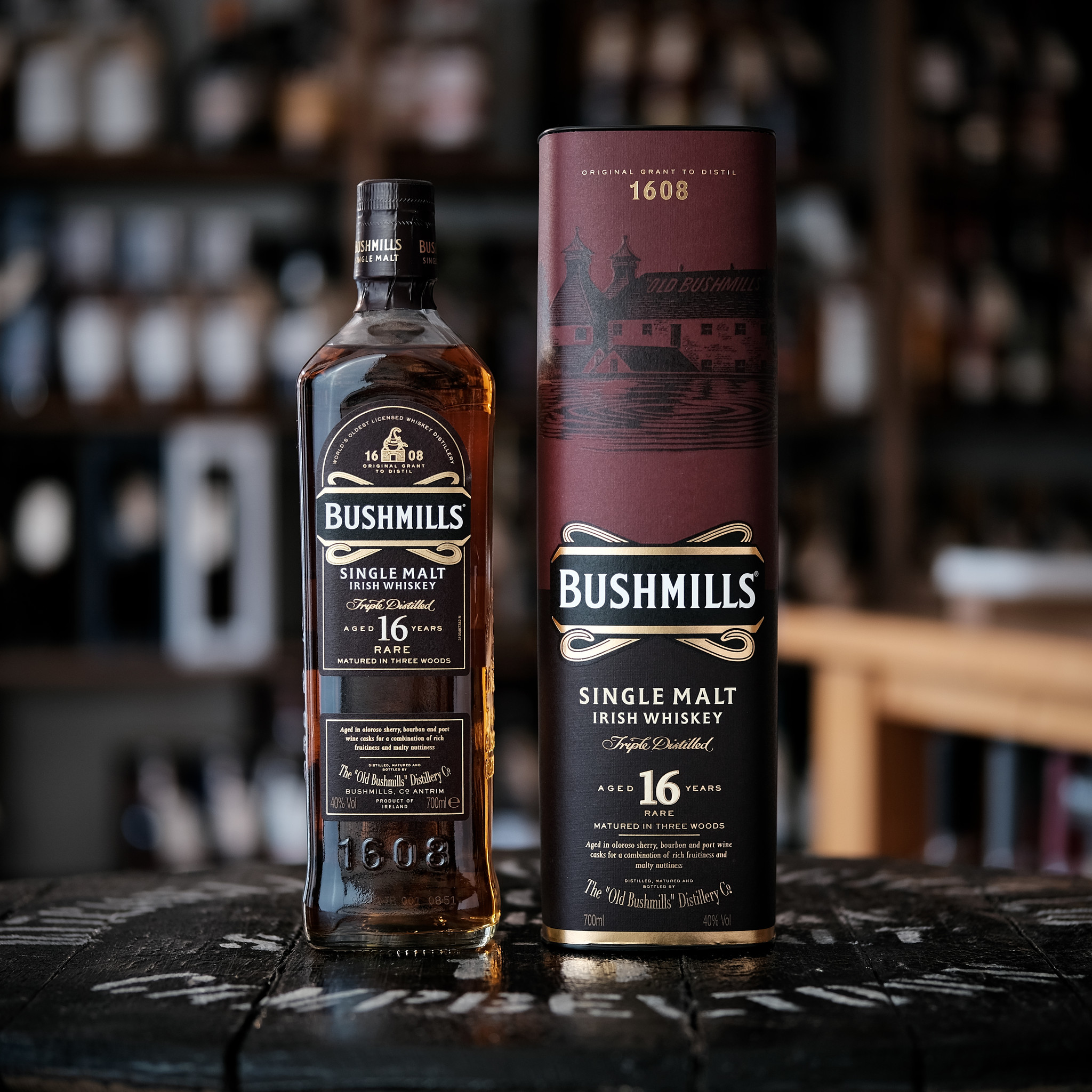 Irish Blog series: part 02
In the week in advance to St. Patrick's day, we will highlight some of the specialties in Irish Whisk(e)y. Irish Malts (and grains!) have been on the rise for a couple of years now, and we have seen some stunning whiskeys, both IB and OB appearing and disappearing on the shelves in our shop. So let's raise a glass to the Irish - and celebrate Irish Whiskey this week!
Irish Single Malt Whiskey (2022)
Yesterday, we talked about the subject of Irish Pot Still Whiskey. A category that is rapidly growing among both Irish and Scottish Whisk(e)y enthusiasts. Very different from its Scottish nephew - Malt Whisky. So today, let's discuss the Irish side of Malt Whiskey. Specifically, how Irish Malts differ from Scottish Malts, and with that, let's talk about the elephant in the room—double or triple distillation. 
Scottish vs. Irish
The Scottish and Irish (Single) Malt categories are quite similar. Both products are distilled from 100% Malted barley (in contrast to Pot Still Whiskey, which has to have a mash with at least 30% unmalted barley... Remember?). Both products have to be distilled in a Pot Still, and both products have to be aged for a minimum of 3 years in wooden casks. So, in general, the outlines of Scottish and Irish whiskey are fairly similar.
But the two do have a couple of differences when we zoom in on technicalities. So let's have some fun and look at those!
Casks
Both Scottish and American Whisk(e)y has to be aged in casks made of oakwood. Irish whiskey can be aged in casks made of any type of wood. However, the majority of casks used for maturation will in fact be oak due to a number of reasons. Have you ever had an Irish whiskey that has aged in wooden casks that were not made of oak? Please share your experience with us on Facebook or Instagram!
Bottling/aging
For a whisky to be called 'Scottish,' the product has to be matured and bottled in Scotland. However, for a whiskey to be called 'Irish,' the product only has to be matured, not bottled, in Ireland. This seems insignificant until you check this bottle of Cadenhead's. A whiskey that matured for 11 years in Ireland, and around 16 years elsewhere. In order to keep the name 'Irish' Whiskey, Cadenhead was only allowed to count the years this whiskey matured in Ireland. Several examples are found in our Whiskybase database.
Double/Triple Distillation
"I like/dislike Irish whiskey because it's 'smoother' than Scottish whisky." If you're anything like us, this sentence probably makes the hairs on the back of your head stand up. Especially when this statement comes up in a discussion about double- or triple-distillation. A lot of websites sadly still claim that Irish whiskey is always triple-distilled, and that triple distillation always tends to 'smoothen' a whiskey. Sure, historically, Irish whiskey might have been 'smoother,' as in cleaner, lighter, and fruitier than Scottish whisky, but this had more to do with tradition than how often the product had been distilled... It's also worth mentioning that this 'difference' in styles has blurred in the last decades.
Also, did you know that Octomore (by Bruichladdich) undergoes quadruple-distilling? 

So what exactly does happen with double- or triple-distilling? Well, it's actually quite simple. Each round of distillation separates certain impurities from the spirit, making the spirit cleaner, purer and higher in ABV. However, how the distiller handles each cut is equally, or maybe even more important for the end-product.
Let's take a look at an explosive flavor-bomb that went through distillation three times. The Bushmills 16-Years-old!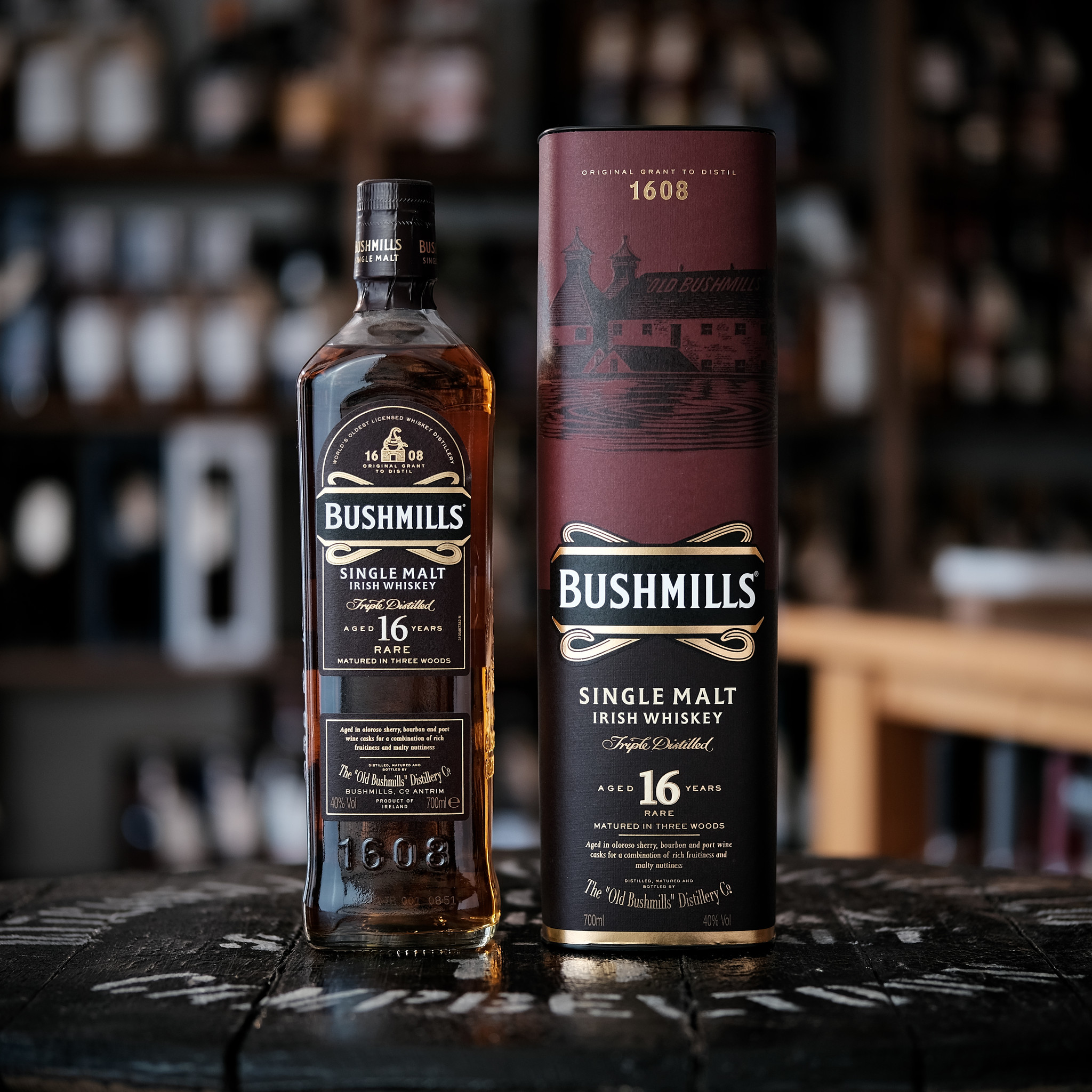 Bushmill's
One of the 'big' three (we'll elaborate on March 16th what we mean by this), is the Bushmills distillery. In our opinion a great example of a triple-distilled Irish Single Malt. Worth mentioning that this is actually the oldest licensed Irish distillery.
Bushmills 16-Years-old (Buy it here!)
This Bushmills 16-Years-old matured in Ex-Bourbon casks, Ex-Oloroso casks and Ex-Port pipes after undergoing triple distillation. As you would expect, this whiskey is packed with the sweet, fruity and dry notes that come with whiskies that had this type of maturation. 
A great must-have Irish sherry-powered whiskey for €84,50.